15.11.2019 – 07.01.2020
Tallinn Christmas Market
During the darkest time of the year, the Tallinn Christmas Market is once again establishing itself on Town Hall Square to bring a fairytale Christmas spirit to the hearts of the townspeople and visitors.
This year, the Tallinn Christmas market will have a special glow as it bears the title of the best Christmas market in Europe in 2019. The title has brought media coverage to the Tallinn Christmas Market worth EUR 10 million worldwide, and this year, Tallinn is the most viewed and booked destination for a winter trip through the European Best Destinations website. As the best in Europe, the Tallinn Christmas Market is also included on the winter map of the world!
Every year, the Tallinn Christmas Market offers traditional Christmas goods: sweets and hearty sustenances, handicrafts, and trinkets. Domestic production is preferred in the selection of goods because it is the local flavor that adds personality to the Christmas market. This year's beautiful Christmas tree on Town Hall Square is also local – grown on Rõika Street in Haabersti District.
As a new outlet this year, the Hiiumaa small producers' hut will open its doors, offering exciting and genuine Hiiumaa products such as fish chocolate, artisanal bread with blackcurrant, lamb shank, honey and more.
For the first time, the Tallinn Art Ceramics Factory is represented in the market with its hut, which continues the 300-year tradition of the Tallinn Ceramic Factory to create beautiful and practical ceramics.
Christmas is a time of feasting, and therefore the Christmas market has always catered to our sweet tooth. This year there is abundance of treats for everyone loving sweets, starting from sugar candy all the way to mini pancakes. In addition to long-time favorites and new surprises, the selection of sweets includes the well-forgotten old sweets, such as various nostalgic types of pastry. The fantastic Gingerbread House has a particularly rich selection of gingerbread, both in size, shape, and decorations. You can also have your say when it comes to decorations – you can have your name or good wishes written on gingerbread with glaze right on the spot. This is a great way to make special and personal gifts for your loved ones!
At the Tallinn Christmas Market, you can treat yourself to Christmas sausages and sauerkraut. For warming yourself up, you can enjoy hot drinks, the most popular of which are various types of mulled wines, both with and without alcohol.
The entertainment program is hosted by Santa Claus, with dancers, singers, and musicians performing on weekends. Every Advent Sunday, an Advent candle is lit, on the first Advent Sunday it is lit by the Dean of Tallinn and the Mayor of Tallinn, accompanied by singing by mixed church choirs. For children's entertainment, there are merry-go-rounds, and starting from the First  Advent, Santa's hut will be opened, where Santa gives sweet treats to those best at reciting rhymes. There is a special program for New Year's Eve.
Tallinn celebrated its 800th anniversary this year. On this occasion, the Tallinn Christmas Market, in cooperation with the Tallinn City Museum, is organizing a one-and-a-half-hour Christmas strolls on Sundays discussing the emergence of Tallinn and how Christmas was once celebrated in Tallinn. The strolls begin in the Christmas market and are conducted in Estonian, Russian, and English. Christmas strolls include walking around in Toompea, visiting the City Museum, and the thematic exhibitions of Kiek in de Kök. The Christmas stroll ticket will ensure you independent access to both exhibitions for up to 7 days after the event.
The exciting Christmas fairytale on Tallinn Town Hall Square will last until January 7, 2020.
Tallinn Christmas Market is waiting for everyone to spend Christmas time on the Fairy Tale Land of Tallinn Town Hall Square.
 Have a Heartful Christmas
Open every day
10:00 – 20:00
Hot Christmas drinks from Sunday to Thursday till 22:00,
Friday to Saturday till 23:00
Christmas program On Fridays 17:00 – 19:00
On Saturdays and Sundays 12:00 – 14:00
Santa Claus since 1 December 2019
Arrival of Santa Claus at 12:00
Santa welcomes children Mon-Sun
from 12:00 until 18:00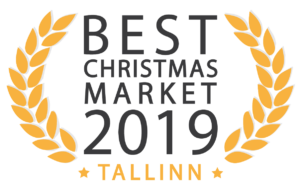 November 15
17:00 Christmas Market 2019/2020 Opening ceremony
The Christmas Market is declared open by Vladimir Svet, the elder of Tallinn city center
17:10 Tallinn Fire Protection Association Brass Band Pritsu Brass
18:00 Tallinn French Lyceum Dance Ensemble Leesikad
18:30 Dance studio Müstika LED dance show
The program is conducted by Arlet Palmiste
November 16
17:00 Roland Erich and soloists in Tallinn Nõmme Hobby School "Tähed"
17:45 dance studio Carolina
18:30 dance society Viisuveeretajad
The program is led by Santa Claus Äffy
November 22
17:00 ETA Dance School
17:45 women's folk-dance group Harku Harakad; mixed group Muraste Murakad, girls' group Säde
18:30 Flamenco Studio FIESTA "Fiesta de Navidad" Tallinn Nõmme Hobby School The program is led by Santa Claus Äffy
November 23
17:00 Saku rural municipality folk dancers
17:45 Tallinn Rahumäe Basic School, students of the Fine Arts Club perform
18:30 Sixtina Dance and Model School
The program is led by Santa Claus Äffy
November 29
17:00 Teachers' Chapel of Jüri Gymnasium
17:45 dance ensemble Sõleke
18:30 Latin Show troupe Panter, featuring Lili Adeni
The program is led by Kristjan Annuk
November 30
16:00 Theater Festival "Fairytale"
Folk-show group Koleso, children's group Kolesiko (St. Petersburg) and ENTRÈE dance studio of the Russian Cultural Center (Tallinn)
17:00 folk dance groups: Hoppet and Palmikud
17:45 Folklore society Juhukse
18:30 Järva – Jaani dance groups: Jürid-Marid, Tuttuued Naised, Ei me ette tea, Pahem on Parem
The program is led by Santa Claus Äffy
December 1, First Advent
12:00 Arrival of Santa Clause
12:15 Hobby Center Kullo singing studio Sinilill
13:00 Merili Kisant and Anni Rahuvarm singing
The program is conducted by Arlet Palmiste
14:00 Choirs of St. John's, Charles, Holy Ghost, Bethel, St. Mary's Cathedral, Nõmme Rahu, Viimsi and German congregations of Tallinn Deanery
14:10 Welcome speech by the Mayor of Tallinn, Mikhail Kõlvart, and the Dean of Tallinn, Jaan Tammsalu.
The first Advent candle is lit on Christmas tree.
* Christmas Tour "Tallinn 800 – First Christmas in the City"
14:30 in Estonian / 15:00 in Russian / 15:30 in English
December 6
17:00 Hobby Center Kullo Dance Ensemble Sõleke
17:30 Mustad Kassid Dance Club
18:00 Dance studio Müstika LED dance show
18:30 Dance Company As-Sa women's folk-dance group Hele and mixed group Tammed ja Toome
The program is led by Santa Claus Äffy
December 7
17:00 Welcome by Timo Kantola, Ambassador of Finland, Susanna Aleksandra performs Christmas Jazz
17:45 Diva Dance Studio
18:15 Happy Feet dance troupe
18:30 Reina DanZumba dance groups
The program is led by Santa Claus Äffy
December 8, Second Advent
12:00 light music choir Cantitores
12:45 hand bell ensemble Kellaring
13:15 Singing studio Minimuusikal
13:55 Advent message by Joel Aulis, pastor of Tallinn Methodist Church
14:00 Pastor Joel Aulis lights the 2nd Advent Candle
The program is conducted by Arlet Palmiste
* Christmas Tour "Tallinn 800 – First Christmas in the City"
14:30 in Estonian / 15:00 in Russian / 15:30 in English
December 13
17:00 Elves' Choir of Järva County
17:45 Black & White dance studio
18:15 Tantsugeen Dance and Fitness Club
The program is led by Santa Claus Äffy
December 14
15:30 Lõoke singing studio
16:15 Irish dance group Solas
17:00 Nõmme Cultural Center women's group Nõmme Marid and girls' group Marike
17:25 Triinu Kont-Kontson's singing children
The program is led by Kristjan Annuk
December 15, Third Advent
12:00 dance studio KT Stuudio
12:45 folk dance ensemble Tuisuline
13:30 folk dance group Tantsusarvikud
13:55 Advent message by Chaplain Ago Lilleorg, Tõnis Kark sings
14:00 Chaplain Ago Lilleorg lights the 3rd Advent candle
The program is conducted by Arlet Palmiste
* Christmas Tour "Tallinn 800 – First Christmas in the City"
14:30 in Estonian / 15:00 in Russian / 15:30 in English
December 20
17:00 Tallinn Nõmme Hobby School aerobics group and folk dance factory Leek "Christmas stars"
18:00 dance studio Desiree
18:30 Free Flow Studio
The program is led by Santa Claus Äffy
December 21
17:00 RightWay Dance Studio
17:15 dance group Kolgaküla Lainerid
17:45 TIC mixed folk-dance group Ingliskad
18:30 dance ensemble Lee
The program is led by Santa Claus Äffy
December 22, Fourth Advent
12:00 Modus dance troupe
12:45 Taisi Laululapsed singing
13: 35 children's choir Juhhei
13:55 Advent message by Ülo Niinemägi, Pastor of Tallinn St. Olaf's Church,
14.00 Pastor of Tallinn St. Olaf's Church Ülo Niinemägi lights the 4th Advent candle
The program is led by Santa Claus Äffy
* Christmas Tour "Tallinn 800 – First Christmas in the City"
14:30 in Estonian / 15:00 in Russian / 15:30 in English
December 24 Christmas Eve
12:00 Mayor of Tallinn Mihhail Kõlvart declares Christmas peace
December 27
17:00 Heli Singing Studio
17:45 Sixtina Dance and Model School
18:30 dance ensemble Kullaketrajad
The program is led by Santa Claus Äffy
December 28
16:30 Sakala Laululapsed singing
17:00 Laagri Leegid Folk Dance Society
17:45 Zahira dance troupe
18:30 V.A.T CREW Studio
The program is led by Kristjan Annuk
December 29
12:00 Vääna- Jõesuu Village Society folk dance mixed group Pööreline
12:45 children of Mustamäe Children's Creative House dancing and singing
13:30 Modus dance troupe
The program is conducted by Arlet Palmiste
* Christmas Tour "Tallinn 800 – First Christmas in the City"
14:30 in Estonian / 15:00 in Russian / 15:30 in English
December 31
22:00 NEW YEAR'S EVE PROGRAM, music for entertainment by a DJ
00:00 welcome to the New Year!
00:20 music for entertainment by DJ Aivar Havi
The program is led by Santa Claus Äffy
January 3
17:00 Kristina Kalle, Maia Matserat and Valeria Nikolajeva singing
17:45 ensemble Kodu
18:30 ensemble Terek
The program is led by Santa Claus Äffy
January 4
15:30 Folk Culture Society Kirmas
16:15 MyDance Dance Club
16:45 Jüri Gymnasium folk dance group Joondu
17:00 Gypsy dance troupe Ale
The program is led by Kristjan Annuk
January 5
12:00 Prodance Dance Studio
12:45 Gypsy dance troupe Sharitsa
13:15 Folk Art Society Leigarid
The program is conducted by Arlet Palmiste
* Christmas Tour "Tallinn 800 – First Christmas in the City"
14:30 in Estonian / 15:00 in Russian / 15:30 in English
January 6
17:00 Soloists of the Creative Community Dea singing
18:15 Tallinn School No 21. show dance group
18:45 Vasalemma folk dance group Lepalind
The program is led by Santa Claus Äffy
January 7
17:15 Free Flow Studio
18:00 Kõku dance troupe
Closing of the Christmas Market
The program is led by Santa Claus Äffy